Apano Meria, Wildlife Refuge (WR), 190 ha

(ΦΕΚ 524/Β/25.6.1997) Click Here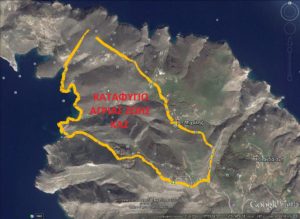 In 1997, a permanent Wildlife Refuge, encompassing 190 acres of agricultural, grassland and partially forest land, was established in Syros, fulfilling the requirements for covering the needs of fauna in terms of peace, food and water, in the location of Apano Meria, of the Municipality of Syros.
The boundaries of the refuge: It starts SOUTH from the Lagoon of Snt Luke—Lia, follows the Dipotamos stream and continues EAST to Mavri Rachi. At the foot of the Skopelos hill, it meets the asphalt road leading to Kampos and then follows the Xylofas trail to the old quarry Marble and NORTH till Mesa Pyrgos. Finally, it goes down to the lagoon of Gria Spilia and to the American's [estate]. In this area, hunting is absolutely forbidden.
Article 287: Penalties for violations of the hunting rules:
Infringers of the provisions of paragraphs 3 and 4 of Art. 252, are punished by detention and forfeiture of the hunting license for a year (replacing the above paragraph 1 by the provisions of paragraph 1 of Article 12 of Law 177/1975)
The person, who, in violation of the provisions of paragraph 6 of Art. 252, used for hunting elastic slink shot, bird calling devices, decoys and mimetic sounds of the game, shall be punished by detention or fine.
The following persons shall be punished by a detention or a fine or both of these penalties:

Whoever carries a hunting dog through a public transportation means without a muzzle, in violation of the provision in paragraph 4 of Art. 255.
The following are punishable with up to 2-year jail time or monetary fine or both of these punishments:

For hunting from a distance greater than 40 meters, with the exemption of nobble game.
For hunting of no-well developed game, for the capture of any kind of game, destroying or disturbance of nests, the collection of eggs, polluting pools of animal drinking water or disturbance of the fauna in general.
Article 288: Seizure and confiscation of illegal hunting means
Any kind of instruments or other means possessed, manufactured, sold or used in violation of the provision in this Law, which are purposed for the hunting, capture or killing of wild animals in general (mammals or winged), regardless of season, will be seized.
The criminal court of jurisdiction orders the confiscation of the seizures and those of the impounded instruments that are prohibited are destroyed and the others are sold off by a commission designated by the public prosecutor and consisting of the head of the forestry authority, a public servant and a representative of the hunting club, in a public auction and the proceeds thereof are to be deposited in favor of the Central Fund of Agriculture, Livestock and Forests (Game Chapter). The aforementioned provisions of this paragraph also apply to conviction for violation of the provision of par. 2 of art. 252.
The illegally hunted game shall be confiscated and disposed [sold] immediately …
If, for any reason, the weapons, nets, traps and other means of unlawful hunting have not been seized and the owner has been convicted, then the conviction sentencing shall also include the ordering of the confiscation of the aforementioned means …
Translated by Constantine Hatziadoniu