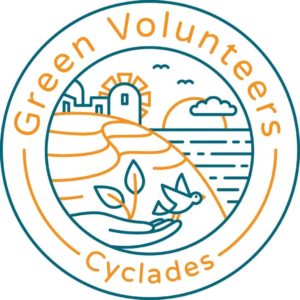 Είμαστε μία από τις τέσσερις οργανώσεις των Κυκλάδων που συμμετείχαν στην πρώτη, πιλοτική εφαρμογή του προγράμματος Green Volunteers in the Cyclades της Βρετανικής Πρεσβείας και του Cyclades Preservation Fund. Στα πλαίσια του Cyclades Green Volunteers, μια εθελόντρια επισκέφθηκε το νησί της Σύρου και έμαθε για την λειτουργία της ΚοινΣΕπ, τα σχεδιαστικά εργαλεία και τις διαδικασίες που χρησιμοποιούμε για να επιτύχουμε θετικό περιβαλλοντικό και κοινωνικό αντίκτυπο.
Το πρόγραμμα περιγράφεται παρακάτω αλλά δεν είναι πλέον ενεργό
We are one of the four Cycladic organizations that participated in the first, pilot application of the Green Volunteers in the Cyclades program of the British Embassy and the Cyclades Preservation Fund. As part of the Cyclades Green Volunteers, a volunteer visited the island of Syros and learned about the operation of the SCE, the design tools and processes we use to achieve a positive environmental and social impact.
The program is described below but is no longer active
Cyclades Green Volunteers is a programme enabling interested active citizens and youth to engage with local communities concerning environmental challenges in the Cyclades islands in Greece.
Especially this year (2021) the programme gives priority to British and Greek (ideally linked to the UK) volunteers as we celebrate the bicentenary of the Greek Revolution, marking Britain's contribution to the Greek Struggle.
Volunteers are invited to offer environmental work in cooperation with local champions on the Cycladic islands of Andros, Naxos and Syros, and at the same time familiarise themselves with the Cycladic way of life and its unique characteristics.
This is a Cyclades Preservation Fund (CPF) programme supported by the British Embassy Athens.
What you can do with us
Volunteers will be given the chance to:
Use the Precious Plastic Lab to learn about recycling plastic hands-on and create objects from it,

Support or communication team in creating outreach campaigns,

Enrich our Social Media presence,

Inform and raise awareness in local communities and the general public about the value of environmental protection and sustainable development,

Collect information based on traditional knowledge about the endemic flora and fauna of the island as well as their traditional management practices,

Clean-ups of marine and terrestrial environment,

Support our administrative staff in building databases and communication with academic institutions.
Details
-Working hours
5-6 hours per day/ 5days per week
-Fee
200 euros (for 2 weeks).
Training included, discounts offered on accommodation and food.
-Type of accommodation suggested
Shared studio (for 2)
-What to bring
hat, sunscreen, swimwear, sports shoes, camera, your smile!
What we offer
– pre departure and on arrival training,
– covid19 mask and weekly self test,
– welcome kit (bag, T-shirt, cup, map, free guide, e-bike for certain days to explore the island).